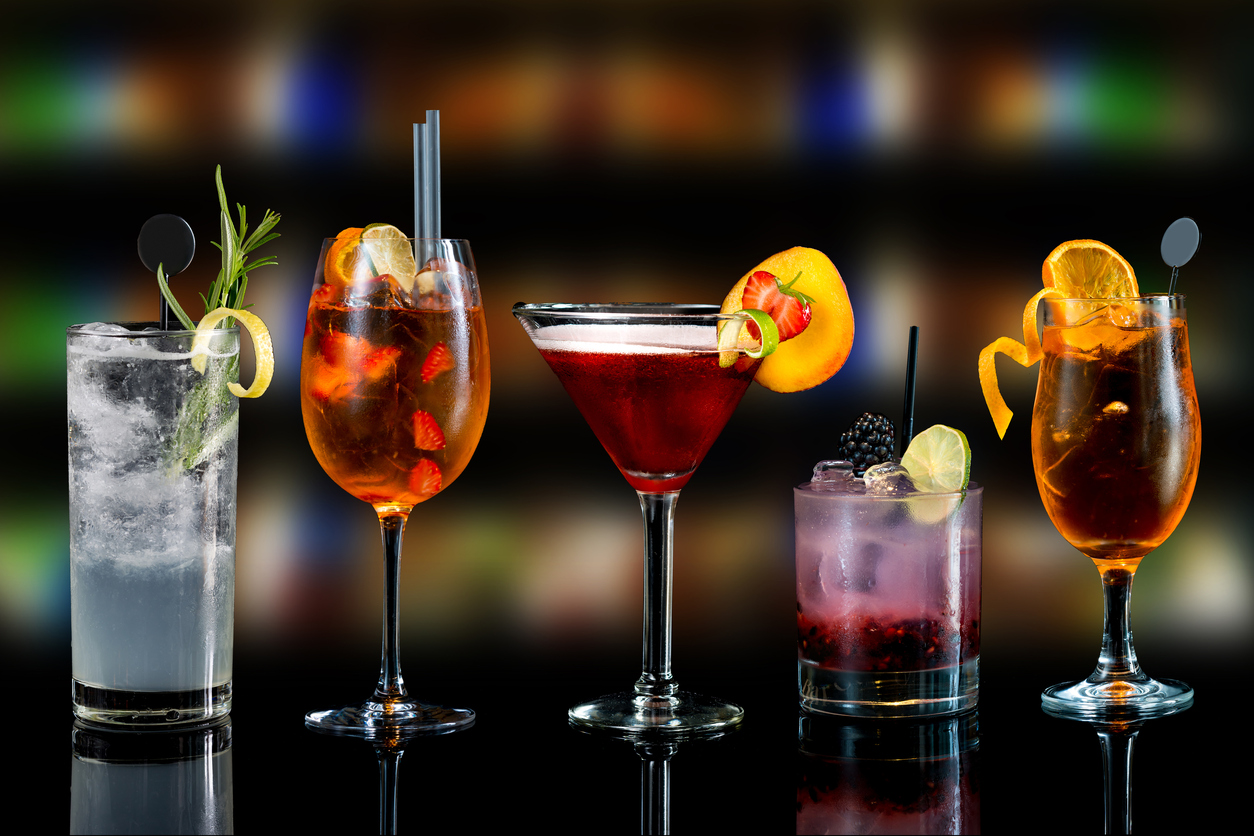 Below are a list of drinks that show up in my stories. Feel free to try them and let me know what you think. Some I've created and other's I've found. Let me know what you think. I'd love to know. ainsely@ainsleystclaire.com
0.75 oz Cointreau
1.5 oz Rémy Martin 1738 Cognac
0.75 oz fresh lemon juice
0.25 oz simple syrup
3 slices fresh strawberry
1 dash Angostura bitters
2 oz Prosecco
Muddle strawberry slices in simple syrup in a shaker.
Add all remaining ingredients - except Prosecco - and shake with ice.
Strain into a chilled cocktail glass. Top with Prosecco.
1.5 oz. cognac
1.5 oz. white rum
1 oz. peach liqueur
1 oz. lemon juice
3/4 oz. simple syrup
3 oz. water
Pour over ice and enjoy!
1.5 ounces Sazerac Rye Whiskey
0.25 ounce simple syrup
3–5 dashes of Bitters
0.25 ounce anise-flavored liqueur or Herbsaint
Lemon twist
Ice (optional)
Begin by pouring the anise-flavored liquer or Herbsaint in the glass and coat the glass with the liquor and pour the remaining out. Add ice if you prefer a cold drink, whiskey, bitters and simple syrup. Sir and add a lemon twist.
Raspberri infused vodka (I use Absolut Raspberri)
Pomegranate juice
Orange liqueur (Cointreau or Triple Sec)
Lime juice
Pomegranate seeds
In a martini shaker, combine equal parts vodka, juice and liqueur over ice. Add lime juice to counter sweetness. Pour into desired glass and garnish with pomegranate seeds and a twist of lime or lemon.
Ingredients (makes one tall glass):
1/2 cup Tequila
1/2 cup grapefruit juice (the pure, fresh kind. Not the juice cocktail, unless that's what you prefer)
1/2 cup club soda
1 tablespoon lime juice
1 teaspoon sugar or agave nectar
Salt or sugar for rim
Directions:
1) Fill a plate with sugar (or salt if you prefer). After wetting the rim of your glass, dip it in the sugar/ salt.
2) Mix all of the ingredients in your cup continuing to stir until the sugar has dissolved into the drink.
3) Add ice.
4) Garnish with fruit.
5) ENJOY!
Blackberry Champagne Cocktail
Ingredients
1 c. blackberries + 8 more for garnish
1 c. Water
1 c. sugar
1 bottle of champagne
4 ounces or 1/2 c. gin
1 c. ice
Instructions
In a small saucepan, bring blackberries, water, and sugar to a boil. Reduce heat and simmer for 10 minutes, until the blackberries are soft and the simple syrup has turned to a bright pink/redish color.
Remove from heat, drain blackberries, and allow to cool. This step can be done well in advance as the syrup will keep for at least a week in the refrigerator.
Prepare your champagne glasses.
Next, begin by adding 1 ounce of gin to each champagne glass.
Next drop two blackberries in each glass, followed by 2 ounces of homemade blackberry simple syrup.
Fill the rest of the glass with champagne.
Sage Honey Bourbon Cocktail
Sage Honey Syrup
1 cup water
1/2 cup honey
10-12 fresh sage leaves
Cocktail
2 ounces bourbon
1 orange peel
1 fresh sage leaves
3 tbsp honey sage syrup
Instructions
1. Bring the water, honey, and sage to a boil in a pot over medium high heat. Reduce to low and simmer 3 minutes. Turn off heat and let syrup cool. It will thicken once cooled.
2. Fill your Old Fashioned Glasses with ice. Pour bourbon and cooled syrup over ice. Twist your orange peel directly over glass until you see the oils release. Place in glass with bourbon and garnish with a fresh sage leaf.
3. You can adjust the sweetness of this drink with additional sage honey syrup.
Watermelon Mint Limeade
8 cups chopped seedless watermelon
1/2 cup freshly squeezed lime juice
mint syrup
mint leaves
1/2 cup vodka (optional)
Mix 1 cup each of water and sugar in a container; shake until combined. Add mint and steep for 24 hours. Purée watermelon in blender with vodka and lime juice until smooth; add mint syrup to taste. Transfer into a pitcher and chill until ready to serve. Pour over ice and garnish with fresh mint.
Ingredients
FOR THE BLACKBERRY SYRUP
1/3 cup blackberries, plus 8 more for garnish
1/3 cup water
1/3 cup sugar
FOR THE COCKTAIL
1 bottle of prosecco or champagne
FOR THE GARNISH
4 sprigs of thyme
Instructions
1. In a small saucepan, bring the blackberries, water and sugar to a boil. Turn to low and let simmer for 10 minutes. Strain blackberries and let syrup cool.
2. Add 2 tbsp. of syrup to the bottom of each glass. Top with champagne and add in a sprig of thyme and 2 blackberries!
Pomegranate and Rosemary Champagne Cocktail
Ingredients
one bottle Champagne
1 cup pomegranate arils (seeds)
1 small bottle pomegranate juice
6 rosemary springs
Instructions
Fill each glass halfway with Champagne. Add a touch of pomegranate juice to each glass until desired color is achieved. With a spoon, gently drop in pomegranate arils. Garnish each glass with a sprig of rosemary.
2oz (60ml) blended Scotch whisky
3/4oz (22.5ml) fresh lemon juice
3/8oz (11ml) ginger syrup (recipe below)
3/8oz (11ml) honey syrup (recipe below)
Splash of Scotch whisky
Candied ginger
Add blended Scotch, lemon juice, and both syrups to a shaker tin with ice
Shake for 15 seconds
Double strain into a rocks glass with ice
Float the splash of Scotch on top
Garnish with candied ginger
Ginger Syrup
20oz (570g) fresh ginger to yield 1/2 cup (120ml) ginger juice
1/2 cup (100g) superfine sugar
Peel fresh ginger with a spoon or vegetable peeler
Pulse in food processor or blender until a soft pulp
Add ginger into a cheese cloth and squeeze out juice
Combine 1/2 cup of the ginger juice with the sugar
Shake to combine and store in the refrigerator for up to 1 month (add a touch of vodka to help with preservation)
Honey Syrup
1 cup (240ml) honey
1/3 cup (80ml) hot water
Combine honey and hot water in a jar
Shake to combine and store in the refrigerator for up to 1 month (add a touch of vodka to help with preservation)
Whether you are waiting for the turkey to finish or sitting down and enjoying your Thanksgiving Day feast, the fall spin on a gin martini will pair wonderfully with your holiday meal.
The apricot brandy and lemon juice add a subtle blend of fruit flavors to the martini base and prepares your taste buds for the mouthwatering bird you've been cooking all day.
Ingredients
Steps
Ingredients
3/4 ounce gin
3/4 ounce dry vermouth
3/4 ounce apricot brandy
1/4 ounce lemon juice
Garnish: Maraschino cherry
Steps to Make It
Gather the ingredients.
Pour the gin, vermouth, brandy, and lemon juice into a cocktail shaker with ice.
Shake well.
Strain into a chilled old-fashioned or cocktail glass.
Garnish with the cherry.
Serve and enjoy!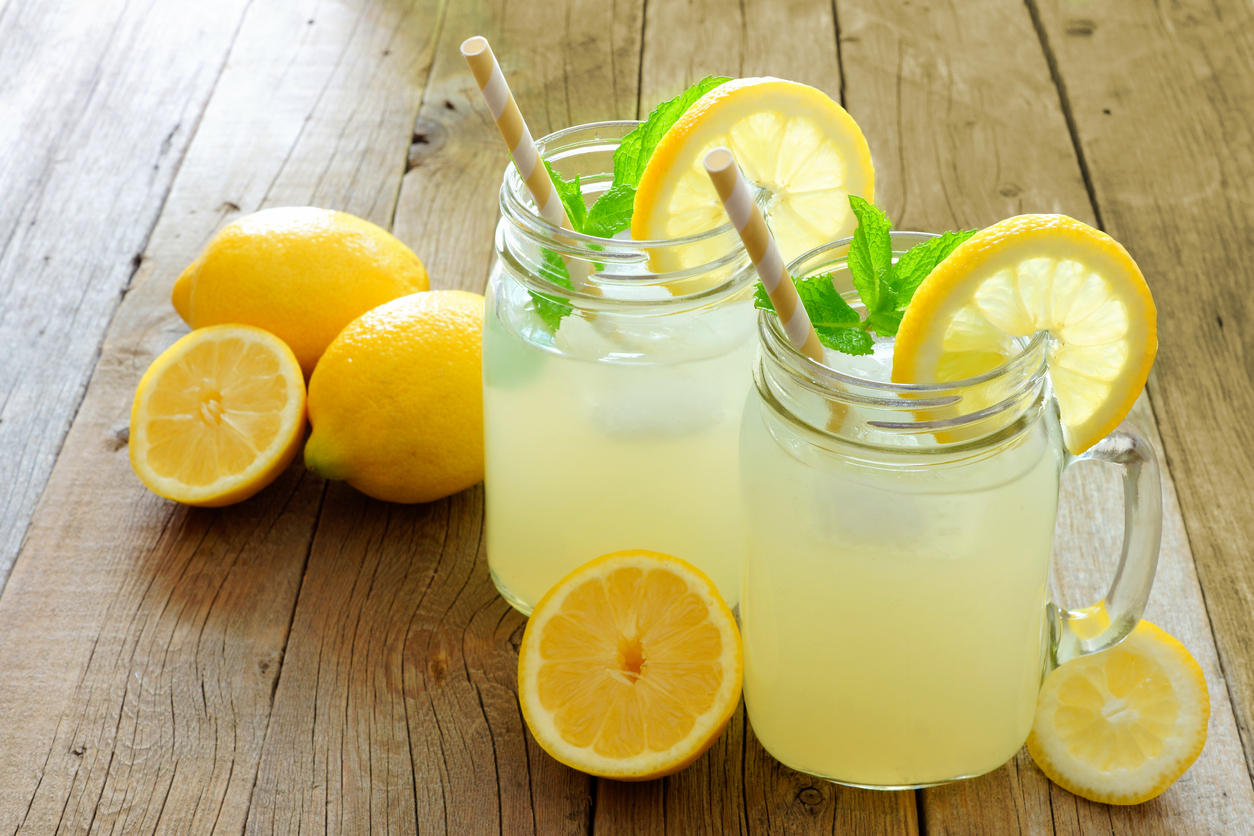 Equal parts:
Fresh squeezed lemon juice
Simple syrup
Vodka
Limoncello
Mix and serve over ice.
2 oz. / 60 ml. Vodka
8 oz. / 240 ml. ginger beer
.5 oz./ 15 ml. lime juice
Add all ingredients in a mug (preferably copper) or collins glass with ice. Garnish with lime wedge.
4 slices of cucumber
16 blueberries
6 mint leaves
2 oz. / 60 ml. vodka
1 oz. / 30 ml. lime juice
4 oz. / 120 ml. ginger beer
Put the cucumber, 8 blueberries and mint leaves in the bottom of a cocktail shaker. Muddle until crushed and juicy. Add a handful of ice, vodka and lime. Cover shaker and shake for about 15 seconds, until the shaker develops a nice coat of condensation on the outside.
Fill a Moscow Mule mug with ice. Strain the liquid from the shaker into the mug. Top with ginger beer and 4 blueberries. Thread 4 more blueberries and a piece of candied ginger onto a toothpick. Garnish with a sprig of mint and the toothpick of berries and ginger.
2 oz. / 60 ml. Tequila
5 oz. / 90 ml. Lime juice
6 oz. / 120 mil Ginger beer
Fill copper mug or Collins glass with ice.
Add lime juice and tequila, then fill with ginger beer and stir.
Garnish with lime wedge.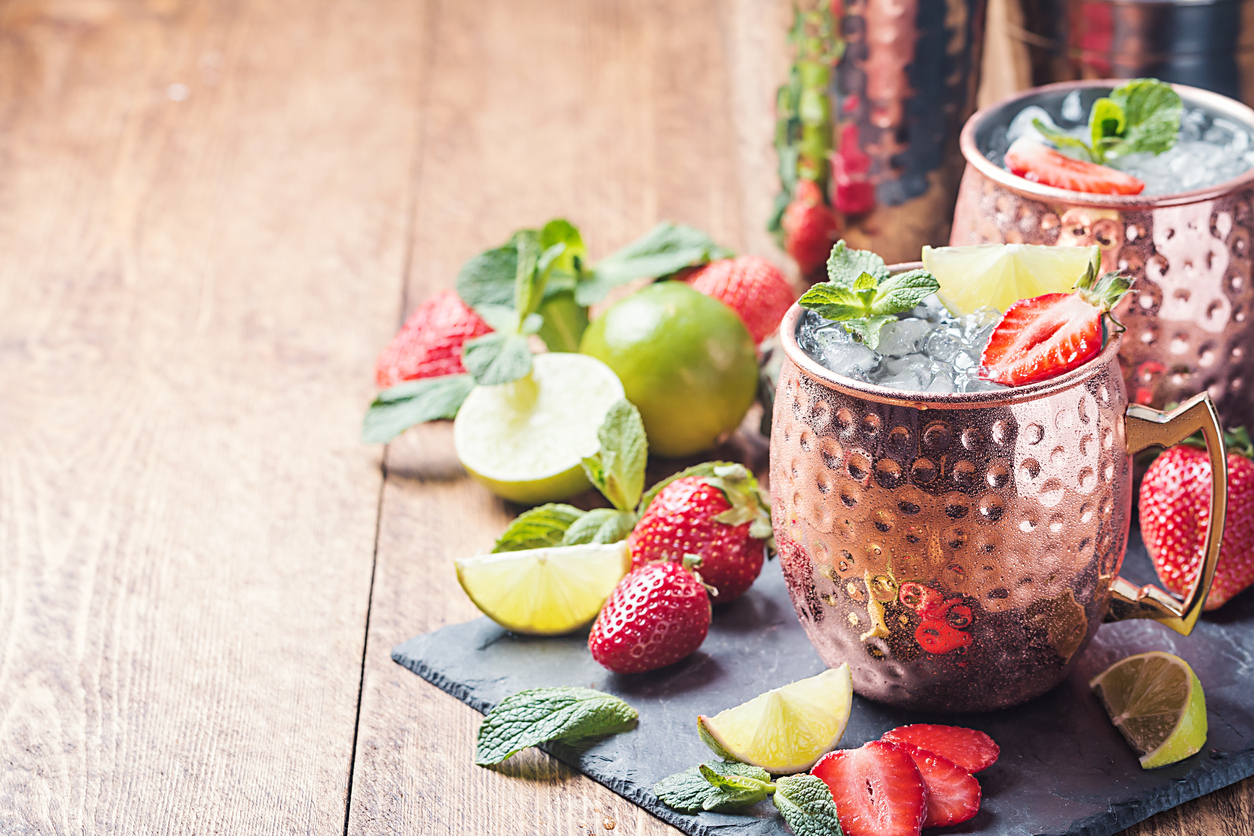 1.5 oz / 75 ml. vodka
3 strawberries
0.5 oz / 15 ml. lime juice
5 oz / 150 ml ginger beer
1 cup crushed ice
Muddle strawberries in the bottom of a Moscow Mule mug or other serving glass.
Add vodka and lime juice.
Add crushed ice.
Add ginger beer and stir gently.
Garnish with a fresh strawberry and serve.
2 oz / 60 ml bourbon
4-6 oz / 120-180 ml ginger beer
0.5 oz / 15 ml lime juice
Mint and/or lime wheel for garnish (optional)
Add bourbon and lime juice to a copper mug or Collins glass with ice (crushed or cubed).
Fill with ginger beer, garnish with a lime, and serve.
Optional: We've always liked our bourbon drinks with a bit of mint on the nose, so if you'd like you can also clap a sprig of fresh mint between your hands (to bruise it) and garnish with that as well.